Inspirada en el lujo extremo y la revolución actual en la industria de la moda peruana, la colección que
Ana María Guiulfo
mostró en la última edición de LIFWeek Lima Fashion Week, Otoño/Invierno 2012, se presenta como una de las más ricas en diversidad de texturas, telas y en cuanto a la paleta de colores se refiere.
Ana le da valor cualitativo a los materiales, las telas.. su calidad y a la importancia de apreciarlas, el approach que la prenda tiene con tu piel y cómo se comporta en sí misma, además claro, de una sobrecarga de colores intensos que van del malva, terracota o el amarillo cadmio combinados con gris, chocolate o negro.
Con un draping desestructurado en sus formas como epitome de, vestidos, abrigos, blusas y sacos, con texturas que van desde gazar de seda, organdí, satines, organzas, hasta pieles, cueros, tejidos y un trabajo en lentejuelas, que en conjunción dan pie a una colección ideada y nutrida morfológicamente de formas provenientes de décadas pasadas, dan como resultado una pasarela con personalidad.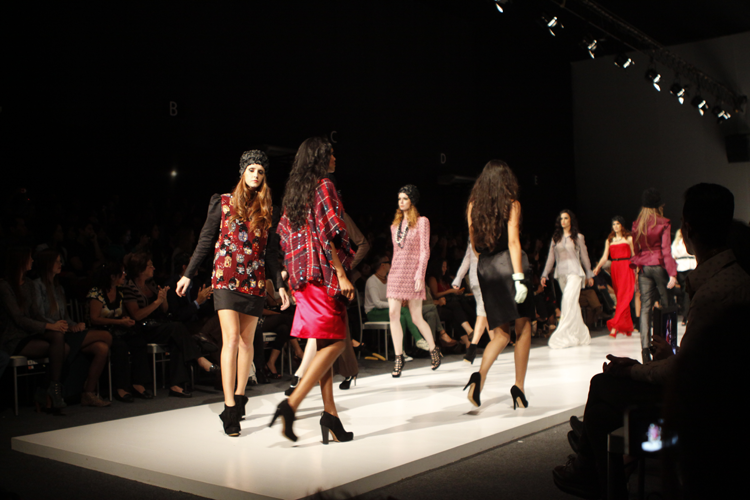 En términos de visión, solo mirando más a allá –y a través- del tailoring y un intensivo desarrollo del plissé, es que se logra una colección con tal nivel de personalidad, convicción, y recordación, acorde con una diseñadora de la talla de
Ana Maria Guiulfo
.
Me gusta y rescato fielmente el refinamiento con el que Ana puede imaginar y plasmar a la mujer que viste su ropa, su marca, Ana G en definitiva es reflejo de ella misma, una mujer sin excesos, y que tiene el Savoir-Faire de una mujer que ha viajado, vivido y ama lo que hace.
Inspired by extreme luxury, and current Fashion revolution in Peruvian industry,
Ana Maria Guiulfo's
Fall/Winter 2012 Collection, recently featured in LIFWeek Lima Fashion Week last April, shows off as one the richest collections in terms of fabrics, texture and color palette.
For me, Ana gives quality value to materials, fabrics and how important is to appreciate them, the approach they have with your skin, and how does it behave itself , and of course, a color overdose that goes from malve , to terracotta, to Cadmiun yellow mixed with grey, chocolate brown or even black.
Unstructued drape is the key for
Ana
, shaping things out as the epitome of dresses, coats, blouses and jumpsuits. Silk Gazar, organza, Silk, coexisting with fur, leather, wool, even hand-sew sequins, gave us as a result a runway fulfilled of life and personality.
In terms of vision, only lookin beyond
–and trough-
tailoring, besides a intense passage of developments of plissé, u can achieve a breathtaking level of construction, conviction and remembrance, according with a designer like
Ana Maria Guiulfo
.
I appreciate truthfully how refine the women that Ana projects can actually be, her brand is –definitely- a truly reflection of herself, a prep non-fright woman that indeed have the Savoir-Faire of a well-traveled, experienced designer that madly loves what she does.